Welcome To Parkway Lake Estates
This community website was developed to serve as an information resource for both the Parkway Lake Estates neighborhood and the local community. Please feel free to contact us with your comments and suggestions.
The Secret to a Healthy Lawn in North Texas is Comprised of Sun, Water and Food (fertilizer)
If you are missing any of the three your lawn isn't going to improve no matter how much time, effort and money you put into it.  Focusing on sunlight which, depending on how much your lawn gets in a typical day, can be a blessing or a curse.  Ask most and one of the things you'll find on their wish list for a home is a yard with well-established trees.  Everyone wants them.    
A big, beautiful, well established tree can not only add beauty to your property, they also provide shade which in turn keeps your home cooler and will lower your energy bill.
What is good for your wallet, however, isn't necessarily good for your grass, because too much shade is typically the reason, we find unsightly dirt patches in many lawns.
Bermuda needs eight hours of sunlight on average and St. Augustine and Zosia need about six hours. If your lawn isn't getting that much sun, then the best thing you can do is accept the fact that grass isn't the best bet for your property and instead embrace another plan.
A lot of Residents in the PLE HOA use the same Tree Trimming Service to trim our trees,  the result will be a very health lawn.  Need the name and number of a Tree Trimming Service?  Please visit the PLE HOA Recommended Service Provider's List under the Resident Resources on our website!!!

Parkway Lake Estates NEWLY Designed Website
Happy New Year to ALL Parkway Lake Estates Residents !
The Parkway Lakes Estates Website has been up and running for many years supporting the Parkway Lake Estates community.  The way that all of us communicate and access the internet has changed, all of us have new mobile devices requiring new security systems, new applications and new software enhancements to accommodate this new way of communicating.  
We have updated the PLE HOA Website to allow our Residents the best and most up to date features while using the Website.  
We hope the you enjoy all of the new enhancements.  A User Guide has been sent to each of your email addresses so that you can take advantage of all of the new enhancements.
PLE HOA Annual Meeting Minutes Posted in the Documents Section of our Website.
Please check your email for the times and location of all of our HOA Meetings.  All of the specific logistics are sent to each Residences' email address.  You can also check the Documentation Folder in the Residence Section of the Website.
Friendly Reminder of Obligations under Declaration of Covenants, Conditions and Restrictions
It is the obligation of the Parkway Lake Estates (PLE) Homeowner's Association (HOA) Board of Directors to ensure that all homeowners in the PLE community are adhering to the Declaration of Covenants, Conditions and restrictions for Parkway Lake Estates Development (the Declaration), which contain the governing obligations and rules for our community.  To that end, we have recently noticed recurring Declaration violations across our community, and the PLE Board of Directors would like to take an opportunity to provide a refresher on the Declaration requirements for some of the more frequently observed violations. 
Please Click Here to get familiar with the more frequently observed violations to ensure that you are in compliance.
Neighborhood Landscape Project
We have a beautiful community at Parkway Lake Estates !
As we walk around the Neighborhood we have noticed that a large number of homes have bushes and trees are overgrown, Limbs hanging over the sidewalk.
Are you tired of putting off your Landscape Projects?
Don't sweat it ! The PLE HOA has contacted Clinch Landscaping to offer some assistance at a discounted rate for our Neighborhood Project.
Please call Clinch Landscaping 972-965-3836 for a FREE ESTIMATE.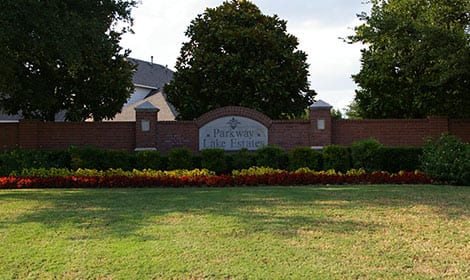 PLE HOA Online Neighborhood Network
The PLE HOA recently set up an online network for our neighborhood at Nextdoor.com, which is the primary networking site used by HOAs around the country for neighbors to stay in touch.
Nextdoor is free both to the HOA and to all individual homeowners, so this is just another optional tool we want to make available, and give everyone a chance to connect online.  To register Click Here  and you will be directed to the Nextdoor site specific to our community and you'll be asked to set up an account.
Please check under the Resident section, Upcoming Events to view the 2019 Calendar for the PLE HOA Meetings.
Notice of 2019 Parkway Lake Estates HOA Annual Meeting, February 10th - Meeting starts at 3 p.m.  Location and details are emailed to each Resident. 
We look forward to seeing you at the next PLE HOA meeting!
Throughout the year we are forced to comply with the City of Dallas watering restrictions.  The restrictions apply to automatic sprinklers, hose end sprinklers, drip irrigation, soaker hoses and hand watering. If you have any questions about watering restrictions Click Here for more  compliance information.          
iWatch Dallas is a community awareness program recently announced by the Dallas Police Department.  iWatch Dallas allows citizens to harness the communication capabilities of the internet/social networking sites to report crime tips and leads.  To learn more iWatch Dallas is a community awareness program recently announced by the Dallas Police Department.  iWatch Dallas allows citizens to harness the communication capabilities of the internet/social networking sites to report crime tips and leads.  To learn more about the iWatch Dallas Program or download the iWatch Dallas Application to your phone, please visit http://www.iwatchdallas.net. 

Free Sprinkler System Checkups from the City of Dallas!
It's time to get your sprinkler system ready for winter.  Irrigation specialists with the City of Dallas are available to conduct free check-ups for leaks and other problems.

"This is a good time for Dallas property owners to make seasonal adjustments to their irrigation system controllers," said DWU Conversation Program Manager Carole Davis.  "As a free service to our customers, DWU irrigation specialists are available to check systems for leaks and other problems." Davis Added.

After checking each customer's system, the DWU irrigation specialists will make recommendations for the seasonal adjustment of sprinkler systems and any necessary repairs.  The property owner is responsible for the repairs.

For more information contact: Dallas Water Utilities 214-670-3155.


Bulk Pick-up Schedule (PLEASE READ JUNE AND JULY STORM DEBRIS)
The 2018 Bulk Trash Pick-up Schedule and additional information is available at the below link: BulkyTrashCalendar.  Also order Your Recycling Cart
Due to the storms and piles of debris collection, NEW BULK TRASH rules for June and July from the City of Dallas:
Storm debris collection following June storms (only storm debris collected in July). As a result of heavy storms in June, the City of Dallas' Sanitation Services is asking residents to limit brush/bulk set-outs to storm debris only for the remainder of the month.  Additionally, normal Brush and Bulk Service will be suspended in July so that crews can focus on storm debris collection. Only storm debris will be collected in July.  The City also requests that residents place tree debris, branches or shrubbery separate from other storm debris such as damaged fence panels or bagged storm debris.
Code Compliance will not issue citations for storm debris related items, even if they are placed out before the regular cycle. Non-storm related items, such as furniture, appliances and mattresses, are still subject to citation.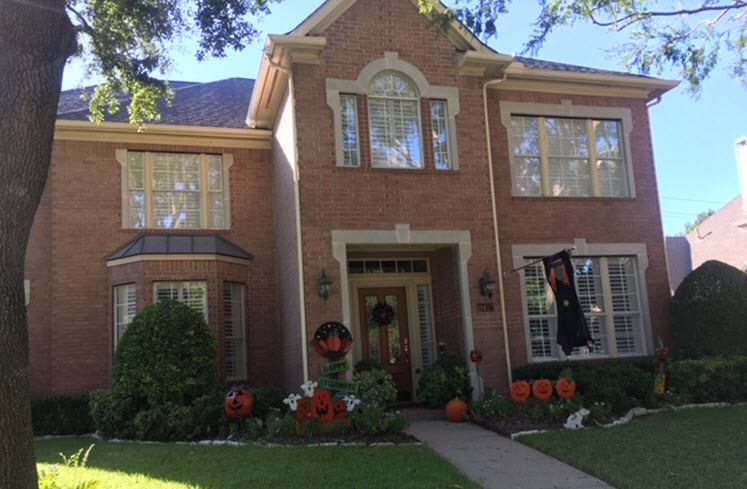 Yard of the Month - 18417 Gibbons Dr.